Due to the Covid-19 pandemic the conference will be held online via zoom.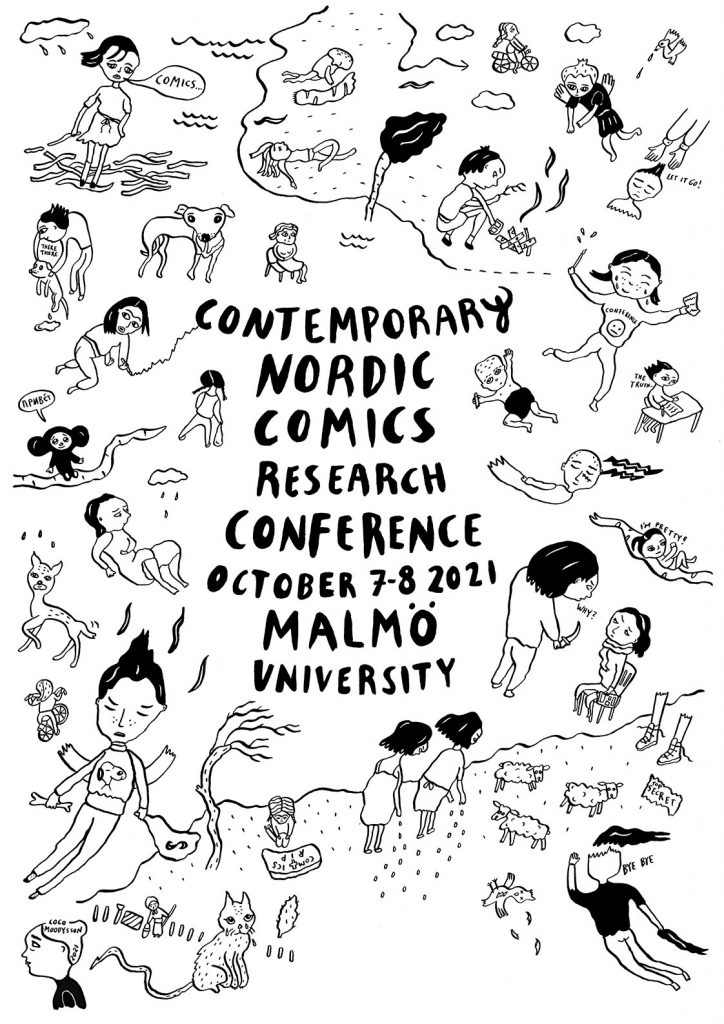 Welcome to the Contemporary Nordic Comics Research Conference at Malmö University. Registration is now open: https://www.delegia.com/contemporarynordiccomicsresearchconference
About the conference:
The contemporary Nordic comics scene is diverse and multifaceted. Classic characters from the 30s are still popular and exist side by side with avantgarde, feminist, and political comics. A mainstream Nordic comic could very well be represented by semi-autobiographical funny animals published in daily newspapers; alternately we also find self-published manga and epic genres (noir, fantasy, horror). Twenty-five years ago, the situation was radically different. Many feared that comics would soon be obsolete due to the fast growth of digital media. Since then, however, both comics and comics research has undergone an almost explosive development in the Nordic region. This is especially noticeable in Malmö, branded as The City of Comics, with a rich infrastructure of comics-related initiatives including education, research, professional artists' networks, publishing companies, comics organizations and The Swedish Comics Archive.

In recent years, academic interest in Nordic comics has also increased substantially, both in the Nordic countries and beyond, in disciplines such as comparative literature, media and communication studies, and art history, as well as within the emerging field of comic studies.
The Contemporary Nordic Comics Research Conference aims to present and discuss current research on Nordic comics, as well as share resources including academic networks, archives, and collaborative projects. A long-term goal is to contribute to the development of both research about Nordic comics and comics research in the Nordic countries through facilitating collaborations between comics researchers in the Nordic countries and researchers in other countries who are also interested in Nordic comics.
Final program:
The final program as pdf for download: https://comicsresearchlab.mau.se/files/2021/10/Program_Contemporary-comics-research-conference-2021_2.pdf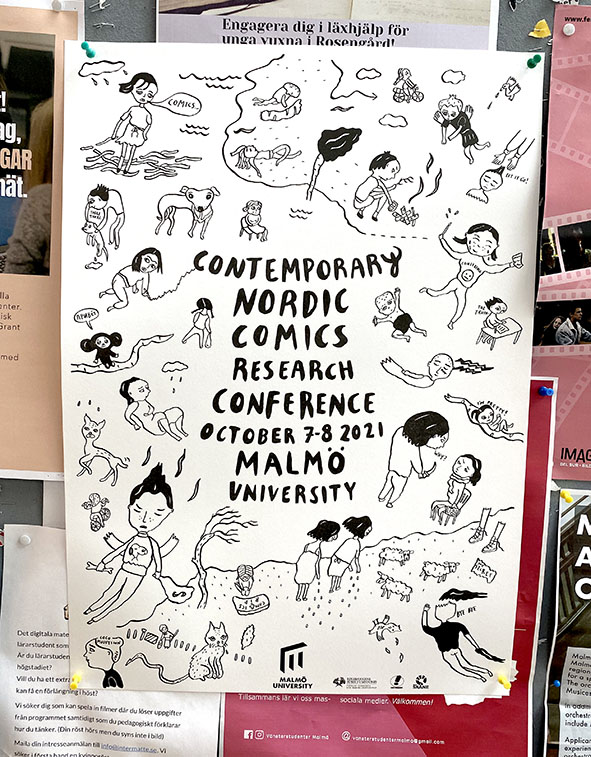 Key-note speakers:
Anna Nordenstam, Professor of Literature at the University of Gothenburg
Joachim Schiedermair, Professor of Nordic Philology at the Ludwig-Maximilians-Universität of Munich.
Abstracts:
See all abstracts here: https://comicsresearchlab.mau.se/abstracts/
Guest of honour:
Sture Hegerfors, President of The Swedish Academy of Comic Art (video presentation)
Artist talk:
Mats Källblad, author of the award winning comic Garagedrömmar. Recent publications are 100 år i samma klass, Polly tar ingen skit and the ongoing series about the fictive place Vimmelgrind. Källblad received The Swedish Academy of Comic Art's prize Adamson in 1998.
Roundtable participants:
Natalia Batista, artist/Nosebleed Studio/Seriefest
Mats Källblad, artist /The association of Swedish illustrators and graphic designers
Sara Bjärstorp, Malmö University. Director for Forum for Social Innovation Sweden.
Amalia Alvarez, artist /Tusen Serier
Fredrik Elg, City of Malmö, Department of Culture
Saskia Gullstrand, artist/Underlandet
Fredrik Strömberg, The Swedish Comics Association/The Comics Archive
Video presentation:
Malmö – The City of Comics

See the cfp: Call for papers